The rent schedule is what will trigger the system into calling for the rent on your given date.
The system will default the rent due date to match the start date of the tenancy, so if you need to adjust it so that the rent calls on a different day of the month, you will need to build the schedule from fresh to indicate as such.
To do this, you will need to go to the tenancy, so first bring up the property using the quick search bar.
Please go to tenancy you wish to make changes to by selecting 'Tenancies' in the ladder bar and click onto the relevant option.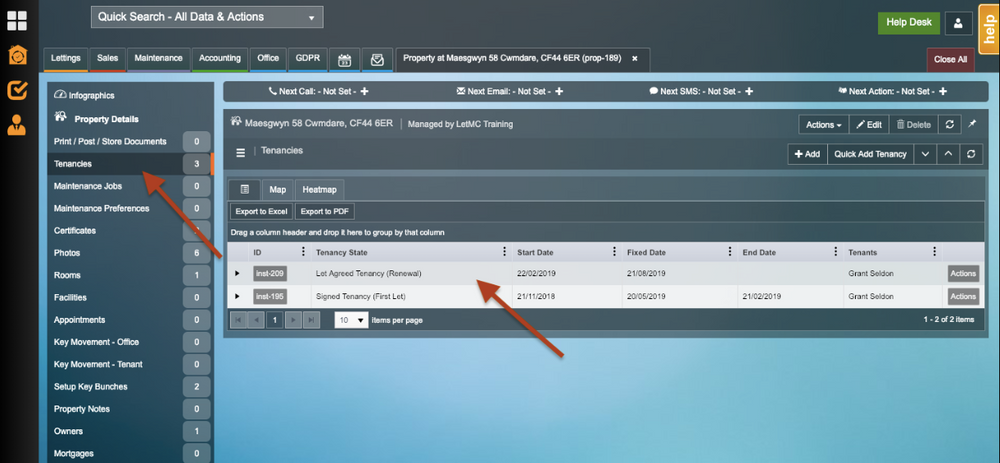 Click onto 'Rent Schedule' in the left hand ladder.
Now go to 'Setup Rent Schedule' on the right hand side.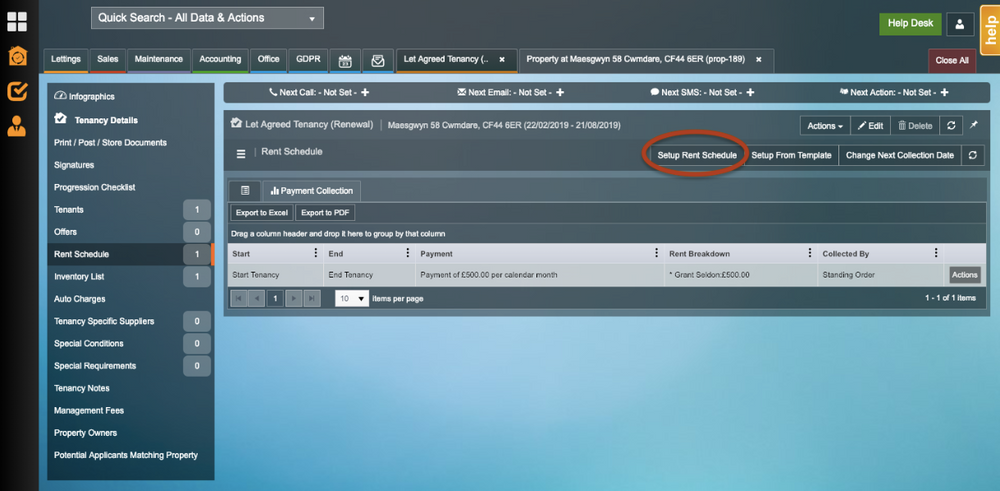 If you need to edit the existing set up, you will need to delete the rent schedule that is already there by clicking the 'Delete' button until all entries are removed, leaving a blank slate.

To setup the new rent schedule, please click on 'Add' so you can begin building the correct details on the schedule.

This is your rent schedule screen. You need to advise the schedule that rent will be accounted for from the start date of the tenancy so please follow the instructions as it states to "leave blank for start of tenancy" - if there is only going to be one price for the rent from start until the end date, you must leave both the "Apply from" and "Apply until" fields blank so that the system knows to go from the start of tenancy to the end, no interruptions or changes.
If you wish to show different parts of the tenancy having different amounts charged for rent, you can set multiple lines into the schedule. To do this, don't leave the "Apply until" field blank - simply use that field to add the date you want to cease that rental amount period for, then click Add again to apply the next leg of the schedule.
Scenario for rent changes:
£500 per month from the start of tenancy
Increase to £550 per month as of 13/12/18
You leave the "Apply From" field clear so it knows it goes from the start of tenancy > "Apply Until" 12/12/18 > Schedule Type to be set as Monthly > £500 >

After you click "add" it will look like this > click add to add the next stage

Now you need to apply the date to show as of when we want the rent increase to happen - in the case of this example it is 13/12/18, so we leave the "Apply Until" blank so that it continues this way each month throughout the tenancy until it is ended.

Now click "Add"
When you are happy with the rent schedule details summarised before you, you may now click on 'Setup rent schedule' to save the changes you have made.