An instruction is what you create as a base point to build the tenancy prior to advertising or letting the property. It will indicate how much you are going to rent the property for, what the service type is, the dates of the tenancy's availability and how long the minimum term contract is.
All of this information will be included in the contracts to both the landlord and potential tenants.
Please start by searching for the property using the quick search bar at the top of your screen. To create the instruction you need to click on 'Tenancies' in the left hand ladder.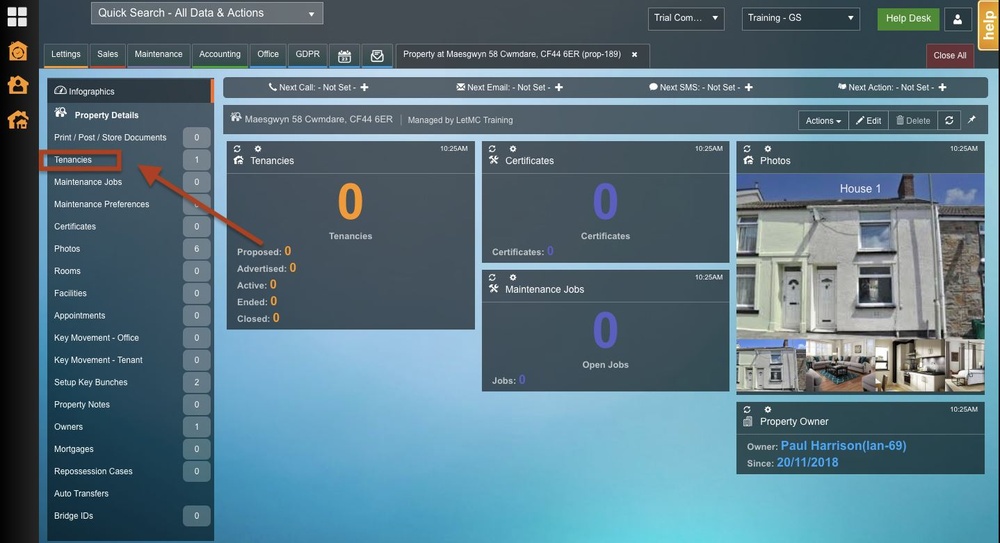 You then need to select 'Add' in the right hand corner to start entering the details of your instruction.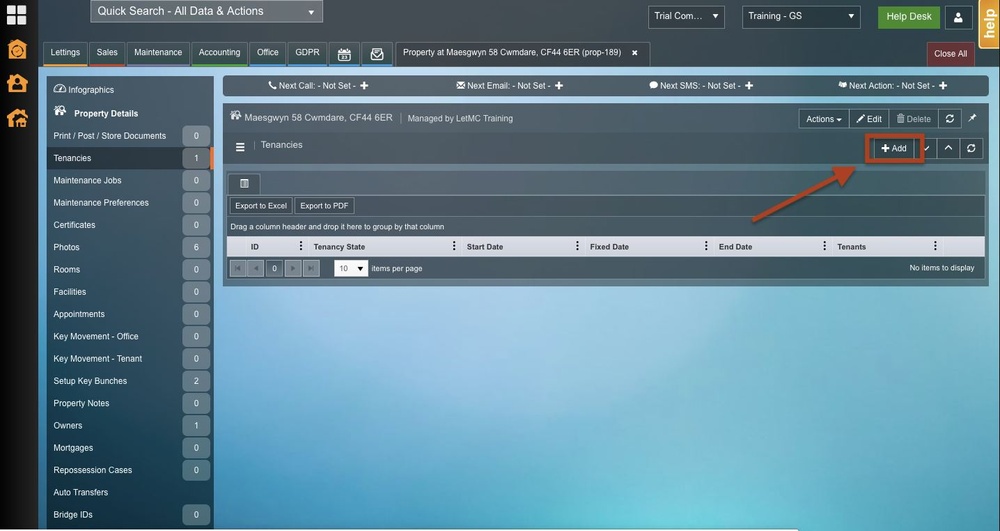 This will then take you to the 'Tenancy' base screen.
The first tab will let you enter your instruction details. You can add the rental amount and contracted terms. If you are advertising the property, this information is what will appear on the portals. It will also imprint onto the Landlord Instruction Letter.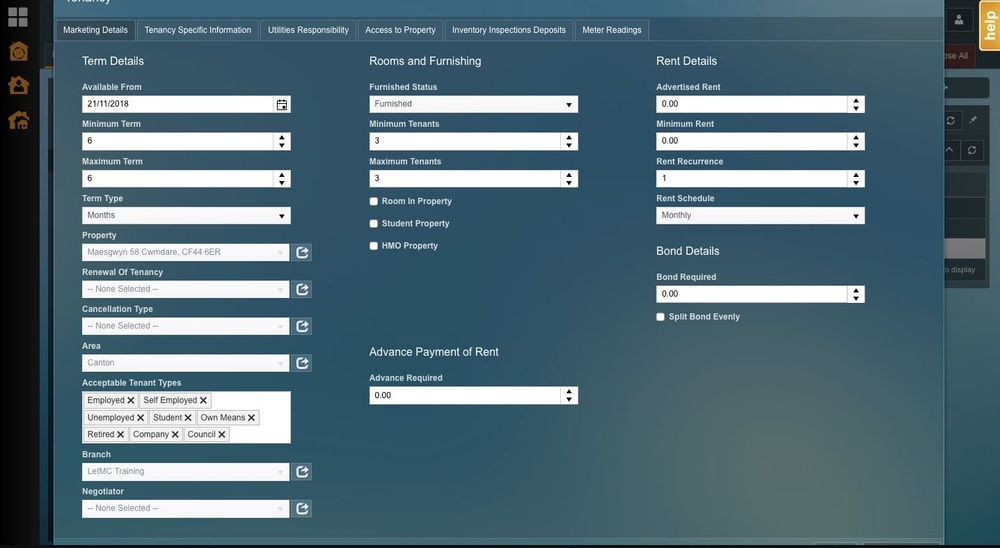 Please do not enter anything into Advance Required field unless this is a Let Only or Unmanaged property which you will only be taking an initial rent payment for only.
The second tab you will see is 'Tenancy Specific Information'.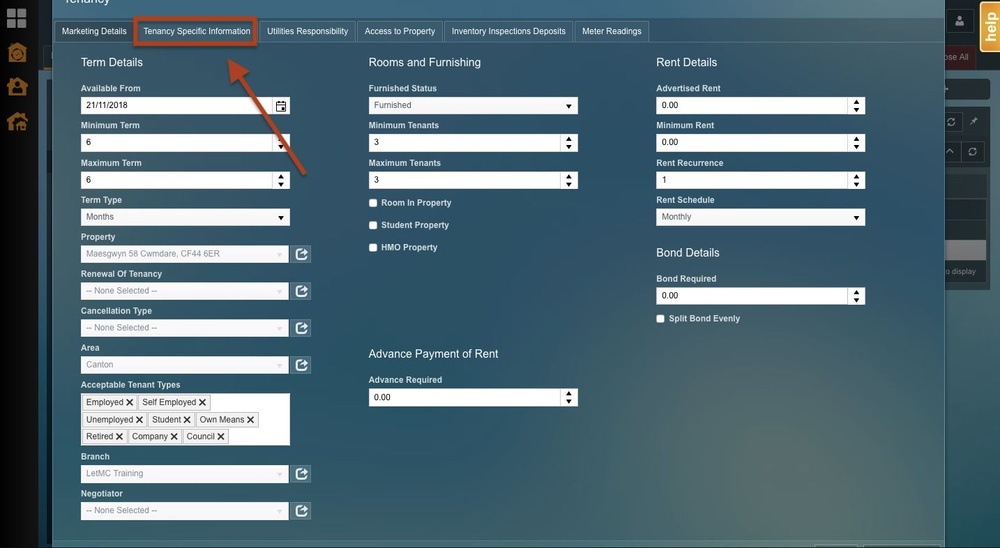 This tab is important because it is where you can set your service type i.e. Let Only, Fully Managed or anything else you have set up.
Service types are customised to your charges, bond management and whether or not there is rent management included. So the reason why this section is so important is because it determines the whole set up behind your tenancy's rent management, ensuring rent is deducted and paid over to the landlord account when it is a managed property or that rent is not taken in error, should it be unmanaged.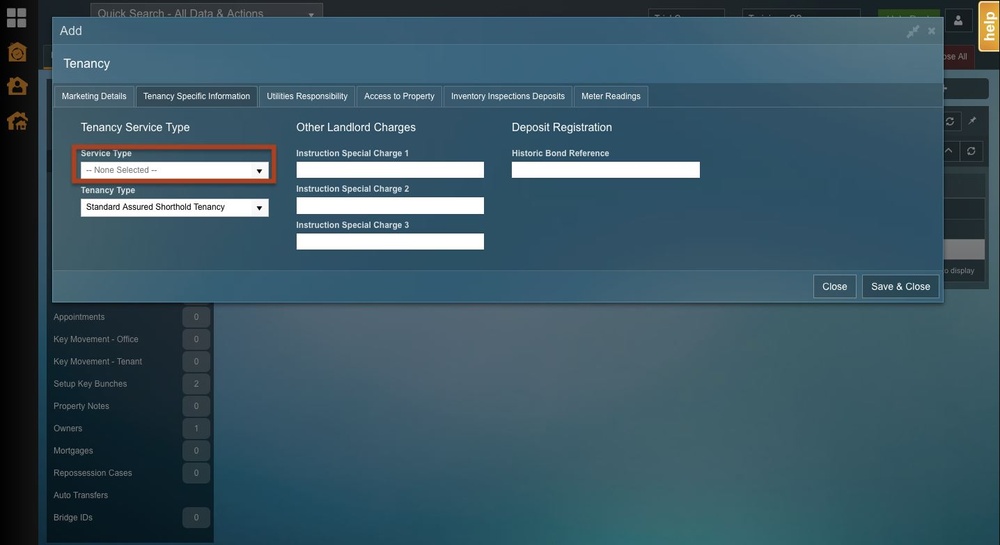 The third tab is for utility responsibly, you can change this to be being landlord/tenant/agent
Fourth Tab over is for notes for accessing the property, if you have keys for the property you can add these separately (please see Keys Manual)
The Fifth tab over is details for dates on carrying out the opening inspection details, and inventory recurrence.
The final tab is for entering the meter readings of the property
Once you have completed all of the relevant information, click Save and Close to finish.
You can send out a copy of the landlord terms of business by clicking onto the actions button on the instruction, and selecting Post Landlord Instruction. This will produce the letter is the postbag
To advertise the property, click onto the actions button on the instruction and select Advertise. This will send the data through to the portals.